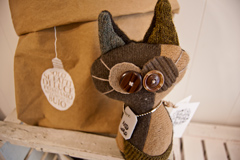 Pictures in the shop were taken at the K-Lab Temporary Shop, in (Piazza Casotti-Via della Croce Bianca) Reggio Emilia, Italy, where you can buy the Re-Plaid plushpets, Essent'ial objects and all the items born from the creativity of K-Lab children.
Learn More
The pictures in "Handmade in Italy" were shot by Roberta Prampolini.
The cover picture, as well as pictures in sections "Are you a store" "Packaging", the photos of the blankets and the outdoor ones, were shot by Marco Pullia, in different locations.
We have no backstage pictures ... what a pity!... we had great fun. We thank the staff of the K-Lab Temporary Shop, Roberta and Marco for their precious collaboration.